Lip Gloss Wand Tube (Black with Gold Rim)
Elevate your brand with these beautiful gems.  This is a 10 ml lip gloss tube.  This item includes the wiper band and stem has a doe tip.

Ready to ship!  Order before 2pm EST for same day shipping.
Purchase in sets and SAVE. Click on the scroll under quantity for options.  If you would like 30 tubes, choose 'Set of 10' and add to cart 3 times.
Remember: FREE SHIPPING WITH ORDERS OVER $50!
Manage overhead costs using Sezzle!  
Get your product now and break the payments into 4 installments.  You can receive your tubes, make your product, sell them, then use a portion of those proceeds to pay for your initial inventory.  That is called leverage!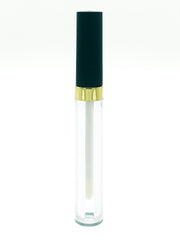 Lip Gloss Wand Tube (Black with Gold Rim)